Former rugby league legend and fishing fanatic Andrew 'ET' Ettingshausen has chosen the tough, V8 Hemi-powered RAM 1500 Laramie to join him in the next series of "Escape Fishing with ET", launching early 2020.
"Escape Fishing with ET" takes viewers to some of the most exciting fishing locations on the planet, while showcasing an outdoor lifestyle that includes off-roading, diving, camping, fishing and boating.
Now in its 21st action-packed year, the highly successful fishing and adventure programme sees the addition of the 'RAM Road Trip', a 3000km journey up the east coast of Australia in the RAM 1500 Laramie towing a 7m Yellowfin trailer boat.
"The 1500 really fits the bill for our RAM Road Trip," says Ettingshausen. "It's big enough to swallow all our kit, supremely comfortable over long distances, and with its unrivalled towing capacity there's plenty of power for safe and stress-free towing – given we'll be towing a 7m Yellowfin, I can't think of a better vehicle for the trip."
It's no surprise that RAM customers are highly active in the outdoor adventure, fishing and boating space – over 50% of RAM Trucks Australia's customers tow a boat, so there were clear synergies between the show and the brand.
The MY19 RAM 1500 Laramie Crew Cab 4x4 chosen for the trip is powered by a 291kW 5.7L V8 delivering 556Nm of towing grunt. Its imposing presence is further accentuated by the Sports Performance hood and cat-back sports exhaust system, both available from RAM Trucks Australia Genuine Accessories.
Since its launch in mid-2018, the RAM 1500 has been a sales success, creating its own segment in the full-size pick-up market. Part of that success is down to the fact it's built to tow, with a range of features that combine to make it uniquely capable and safe. In addition to the full complement of electronic safety features, the RAM 1500 also adds Trailer Sway Control, Ready Alert Braking and Trailer Brake Control.
Trailer Sway Control works to counter one of the most common problems with towing: a weaving trailer. Using sophisticated electronics combined with the RAM 1500's brakes, the system detects and counters a swaying trailer and pulls it back in line allowing the driver to maintain full control.
Ready Alert Braking has two functions. If the driver suddenly takes their foot off the accelerator, the brake system instantly prepares the brakes to provide maximum performance when the brake pedal is activated.
Additionally, when the auto wipers are activated by rain, the Ready Alert Braking system moves the brake pads closer to the brake discs to sweep away water from the discs and ensure maximum, instant braking ability.
Finally, Trailer Brake Control on the RAM 1500 is activated via slider controls on the dashboard to control the electric brakes on a trailer or caravan. The settings are then shown in the instrument panel, allowing the driver to adjust as necessary.
The RAM 1500 Laramie Crew Cab 4x4 starts from a recommended retail price of $99,950 plus statutory charges, dealer costs and delivery. Every RAM is backed by a three year/100,000km warranty with Roadside Assistance, and requires a service every 12 months or 12,000km.
Fully factory-supported and backed by 47 RAM dealers across Australia, the RAM range sets new benchmarks for performance and ability. The RAM Trucks Australia Melbourne Manufacturing Facility is a major source of employment in automotive engineering, design and production excellence for both RAM Trucks Australia and the Australian component companies that keep the factory supplied with Australian made parts.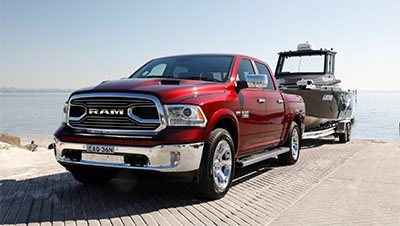 RAM Trucks Australia
RAM Trucks Australia is Australia's only factory-authorised full-volume importer and distributor – in fact, RAM Trucks Australia is the world's only factory-authorised right-hand drive manufacturer of RAM Trucks. RAM trucks are imported directly from the North American factory in left-hand drive and then remanufactured to right-hand drive at our purpose-built Melbourne Manufacturing Facility. As of June 2019, we are Australia's only 24-hr vehicle manufacturing facility. Each RAM Truck is produced with full-volume import approval, meaning they are fully compliant with all Australian Design Rules. RAM Trucks are sold and supported by an Australia and New Zealand-wide dealer network.
About RAM
Since its launch as a stand-alone division of Fiat Chrysler Automobiles in 2009, the RAM brand has steadily emerged as an industry leader with one goal: to build the best pick-up trucks and commercial vehicles in the industry. Creating a distinct identity for RAM has allowed the brand to concentrate on core customers and features they find valuable.
The brand continues to invest substantially in its hard-working products. In order to be the best, it takes a commitment to innovation, capability, efficiency and durability. RAM invest substantially in its products, infusing them with great looks, refined interiors, durable engines and exclusive features that further enhance their capabilities.